Lackawanna Heritage Valley Update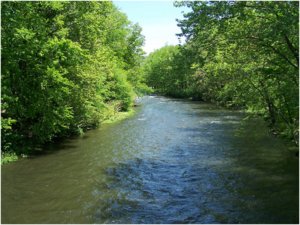 Lackawanna Heritage Valley (LHV) plans to develop a new section of the Lackawanna River Heritage Trail (LRHT) in Dickson City. In 2015, LHV acquired an easement to a tract of land between Railroad Street and Lackawanna Avenue in the borough.  It has applied to DCNR for partial funding to develop this property into a 1.1 mile trail that will connect Dickson City to Olyphant. This project will remediate a large brownfield that was the site of a former colliery and coal mining fields, and it will repurpose it into a convenient multi-purpose trail to provide safe recreational, fitness, transportation and socialization opportunities for the community.
The dual purpose trail will accommodate a variety of users. Walkers and runners can choose between a 6' wide packed stone dust path or a contiguous 10' paved pathway that will provide a smooth surface that is more suitable for bicycles, strollers, wheelchairs or walkers. The new section also will provide direct access to the Lackawanna River for fishing. The project will be fully ADA compliant, and accessible parking will be available at the trailhead entrance.
This connection would close a critical gap in the Lackawanna River Heritage Trail, enabling LHV to take an important step toward its goal of developing a contiguous 70+ mile trail system that will extend from the New York state border to Pittston.