I-81 Reconstruction Project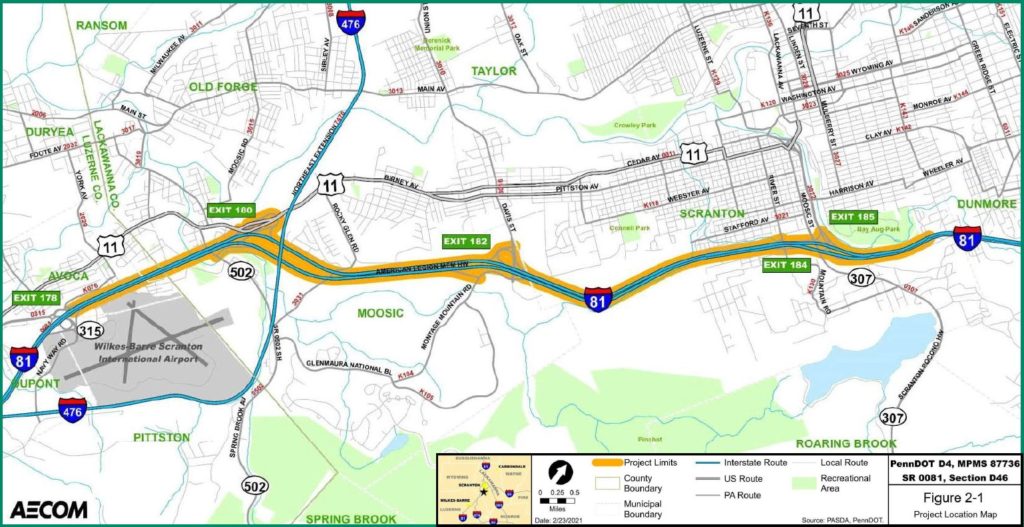 PennDOT held an open house at Dunmore Elementary Center on February 15th, 2023, to display plans to reconstruct a seven mile segment of I-81. The proposed project would begin at Exit 178, Avoca, and end at Exit 185, Scranton. Detailed maps of PennDOT's planned changes can be found here:
A virtual rendering of the project can be found here:
The main goal of this project is to reduce the frequency of crashes and future congestion along the corridor. The the proposed design will remove left hand exits along the segment and include realignment to create safer roadway curves. The new road will be widened and have three 12-foot travel lanes with two 12-foot shoulder lanes in both directions. PennDOT predicts that traffic along the new highway should flow freely for the year 2055.
The I-81 Reconstruction Project is proposed to begin construction in 2028 with an estimated completion for 2033. The total cost of the project is estimated to be $500 million.
Additional information about the I-81 Reconstruction Project may be found here on PennDOT's website. The project's contact is Susan Williams, PennDOT Project Manager.
Additional information about the I-81 Reconstruction Project can also be found below:
Press release on I-81 Widening
The public comment period for the project will be from February 15th to March 15th, 2023.